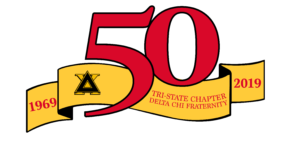 Come and celebrate the 50th anniversary of our dear Tri-State Chapter of the Delta Chi Fraternity. Since 1969 we have seen over 600 men be initiated into our brotherhood, and we don't plan on slowing down.
The events for this weekend are still being planned, but plan on it being similar to a massive alumni weekend. The special event for this year will be the burning of the mortgage for our current house will be on Friday April 12th 2019, followed by a banquet on Saturday.
More info will be coming as we continue to plan this event. Keep watching for updates and build up some excitement for this historic event.